Hunting Zoe
ISBN: 9781935006008
Bloodletting Press
US limited edition and lettered edition hardback
Cover art by Lorenzo Sperlonga
Released Late 2007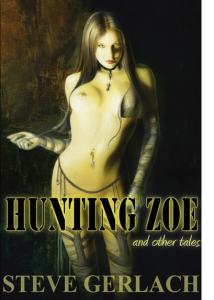 She's beautiful.
She's sexy.
And she's very dangerous…
They cracked the code,
and were on the road to their destiny…
Glen and Mark know the story behind Zoe. The real story. They've figured it out, they've done the research, they've found all the clues.
They're on the hunt – the hunt for Zoe.
Glen knows he's right. He knows she's waiting out there for him.
Nothing will stop him. No one will get in his way. He'll be the first…
But will he be the last?
The hunt is on.
Because Legends Never Die…
HUNTING ZOE
Seek and ye shall find.
Legends Never Die…
Hunting Zoe is an entirely new spin on the idea of a "sequel". Set in the real life world, where Love Lies Dying is a work of fiction, Hunting Zoe blurs the lines between reality and fiction.
This edition comes with some exciting extras:
* When Fantasy Met Reality – Hunting Zoe introduction by Brett McBean
* Hunting Zoe
* Broken Cookie – short story
* Schism – short story
* CellCaNdy – short story
* Dead of Night – German version – first English release short story
* Jungle – short story, first time printing
* Steve Gerlach On The Edge – FULL and UPDATED Gerlach interview with Ron Clinton.
This release collects for the first time five Gerlach short stories, some of which see their first US release and, in the case of JUNGLE, its first printing anywhere. The interview is an updated and uncut interview between Gerlach and Clinton – an abridged version first seeing print in Cemetery Dance Magazine a few years ago.
Reviews of Hunting Zoe
"With Hunting Zoe, Steve Gerlach moves into full throttle. Intense and gripping – don't plan on doing anything else once you start reading this one. Gerlach is a master storyteller, and he is in high form. If you liked Love Lies Dying, you'll love Hunting Zoe." — Brian Keene, author of The Rising, Terminal, and Fear of Gravity.
"A truly unique and original take on the concept of a sequel, Hunting Zoe examines an inverted intersection between reality and fiction and manages to successfully blur the boundary even further." — Cemetery Dance Magazine, Issue 51, USA
"Gerlach is the King of Australian thrills!" — Oh Yeah! Magazine, Australia
"Gerlach is one of Australia's premier dark thriller writers." — Shadow Writer, UK
"A fast-paced, impossible-to-put-down, thrill-ride of a novel!" — Wild Roses Productions, Australia
"Zoe. Oh yes, Zoe… The mere utterance of her name can bring a shudder of delight and terror to those who have had the pleasure of reading LOVE LIES DYING (Probable Cause Productions, TPB, 2001; Bloodletting Press, HC, forthcoming), Steve Gerlach's infamous novel of erotic suspense. For these fortunate readers, Zoe's horrific antics and cryptic personality commonly linger in their minds as among the small-press highlights of 2001. As such, the simple whisper of her name can still conjure up vivid memories of bloodchilling delights. She's a hard gal to forget. And now she's back. Well, sort of. 'Seek and ye shall find…' states the novella's publicity. Gerlach has penned a sequel of sorts with the tremendous HUNTING ZOE (Wildroses Productions, 2004). In the clever and witty style that has fashioned a consistently commendable body of work, Gerlach has devised a sequel that continues the legacy of his female protagonist while at the same time taking a wry look at fanaticism and celebrity worship. HUNTING ZOE begins with a intriguing premise: the terrifying story told in LOVE LIES DYING was true. This followup then — this short sharp novella told in rousing short chapters and terse, clean dialogue — has two obsessed young men following Zoe's violent, bloody trail step-by-step as it was described in the original novel. Along their brief travel, they encounter odd townsfolk and even stranger circumstances among the various original settings from the novel. The puzzling duality of what's real and what's not, of what's imagined and what's only feared, is one that not only advances the furious pace of this admirable work but also makes this sequel much more than just a simple followup. And perhaps the most frightening aspect of this novella is not the lengths to which fixation will lead an individual…but what that individual will find when they discover that obsession can spread to others like a virulant, deadly plague. 'Seek and ye shall find' indeed. You've been warned." — Ron Clinton, Washington, USA
"I read Hunting Zoe last night as I crawled into bed. It's one of those books that you start to read one chapter and you can't stop, and you tell yourself, 'Just another 10 pages,'cause you're tired, but then that 10 pages is up and….well, soon enough you're done the book and wide awake. The book is fairly short at 168 pages and fairly expensive at $50, but it's limited to 200 copies, signed, and all that. It's a very nicely produced book as well. This is a companion book to Gerlach's Love Lies Dying, which I haven't read. And, no, it didn't matter at all. It's not a sequel, but it sure makes me want to read the earlier book. Larry Roberts, if you see this, get that book published!! Hunting Zoe is not as extreme as Rage but it's definitely got points that are x-rated. Gerlach's style here is very reminiscent of Richard Laymon. I don't know if that's deliberate (Gerlach runs the RLK! website), but it works great. The book is very easy to read and has just a great story. Very highly recommended." — John Little, USA
"Let me chime in with my thoughts on HUNTING ZOE… I Loved It! Just the idea of the story in itself is amazing. The pace is fast – so buckle up before opening this book! If HUNTING ZOE gives a peek into LOVE LIES DYING, then bring on LOVE LIES DYING. I did hear that it was in the stages of being proofed, so hopefully the wait won't be too much longer. Then I can read HUNTING ZOE again and look for the extra links that I no doubt missed. Are you going to drop any hints about future Zoe appearances, or what?" — Leigh Haig, Australia
"Think you know Zoe? Think you know where she was? Think you know where she is now? Pal, you don't know jack. Because you haven't read Hunting Zoe… But I have. She's beautiful, sexy and very, very dangerous. But do you think that would stop two teenage boys, obsessed with even the idea of a real Zoe, from trying to hunt her down; to track and trace her like a stolen car with satellite navigation? Not a chance in hell; at least, not in Steve Gerlach's world. If you think you know the whole story about Zoe Barber – you're wrong. Dead wrong. In Hunting Zoe, Gerlach takes us to familiar places, different only because they are real. Everything about the book is real. It's not a novella; it's not a work of fiction. It's a journal of sorts. A very special journal, logging the journey of Glen and his pal Mike. Glen has read Love Lies Dying. He's met Zoe, in all her magnificance, and now he's ready to meet Zoe again. This time, however, he won't settle for words on paper. This time, he will meet the real Zoe. In flesh and blood. With Hunting Zoe, Gerlach once again takes on a thrill ride through the world in his head, throwing us around in the backseat. He'll take us to places we've never been, introduce us to characters we wish we never met, and show us things we would never have known. But, above all else, he'll prove to us one very important little message… Legends Never Die. And he does it all in one short ride of a novella through hell. If you liked The Nocturne, loved Rage and were blown away by Love Lies Dying, then get your hands on Hunting Zoe. It's definitely the best novella you'll read this year, and there is not a chance that you'll be able to put it down before that very last word. Can you hear that? That quiet voice off in the distance? It's Zoe, and she's calling your name…" — Troy Taylor, Australia
Buy online from Amazon US
Buy online from Amazon UK