Love Lies Dying
ISBN: 9780957864115
Probable Cause Productions
The Definitive Paperback Edition
Released September 6, 2016
She was on his sofa, reading a book. She was a complete stranger.
And she was naked…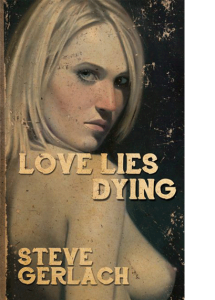 Her name was Zoe, and she had survived a horrific ordeal.
Fleeing from trouble and the threat of death, Zoe turned to her best friend, Helen. Driving for three days straight, she arrived cold and hungry on Helen's doorstep.
But Helen was at work. Leaving Helen's husband, John, and Zoe together…all alone.
Having escaped from a life of terror and violence, Zoe was sure she could hide out with them for a while. Just long enough to get back on her feet and her life in order again.
John's only mistake was to agree she could stay with them…
Because Zoe's past was fast catching up with her.
And that past would draw them all into a game of life and death.
By letting her stay, John had no idea of the horror that would be visited on them all…
For someone had a game to finish – a game that could turn very deadly indeed.
LOVE LIES DYING
You always love,
The ones you hurt…
Reviews of LOVE LIES DYING:
"Love Lies Dying is a disturbing, twisted, sexually-charged dark ride of suspense." — Douglas Clegg, author of Naomi, USA
"Gerlach has created a tense, tightly-written, and terrifying suspense novel. Fans of Ketchum, Laymon, and Slade won't want to pass this one by. Love Lies Dying truly does leave the reader on the edge of their seat. I challenge you to try putting this one down once you've started it!" — Brian Keene, Multiple Bram Stoker Award Nominated Author of No Rest For The Wicked, 4X4, and More Than Infinity.
"LLD is a desperate journey with plenty of masochistic and violent detours along the way." — Cemetery Dance Magazine, Issue 51, USA
"With Love Lies Dying, Steve Gerlach gives us a page-turning psychological thriller of bizarre twists and never-to-be-forgotten characters. Truly a terrific read." — Rain Graves, author of Blood of a Black Bird and The Gossamer Eye, USA
"LLD's lead female character, Zoe, is one of the most intriguing and beguiling femme fatale antagonists in recent genre fiction." — Cemetery Dance Magazine, Issue 51, USA
"A terrific read (with the lights on)!" — The Spook Magazine, USA
"LLD is a spare and fast-paced novel – erotically-charged, bizarre and horrifying – drenched in gut-wrenching suspense and sexual savagery." — Cemetery Dance Magazine, Issue 51, USA
"Love Lies Dying has a terrifying premise." — Shadow Writer, UK
"Gerlach possesses a one-of-a-kind style, a singular voice of clipped sentences that pulls you along and at each chapter break leaves you hungering for more." — Brent Zirnheld, author of Mercy Kills, USA
"With the newly released erotic thriller, LOVE LIES DYING, Australian horror/suspense writer Steve Gerlach has produced a terrific new addition to his recent string of high-octane novels. Following closely the narrative recipe that has made previous novels such satisfying fare, LOVE LIES DYING tells in spare, clipped sentences the horrifying ordeal of a man caught up in a tangled web of deceit, sexual savagery and bloodlust. Gerlach has woven this cum-soaked web around perhaps the most intriguing and sinister female antagonist ever to spring from his work…and she wears it like the finest pearls. With LOVE LIES DYING, Gerlach has matured in both style and content; this sleek, assured novel is not one to be missed." — Ron Clinton, Washington, USA
"Gerlach totally corrupted me." — Bob Strauss, USA
"I just finished Steve Gerlach's LOVE LIES DYING. Damn, where has this guy been hiding? An awesome read. If you don't already have this book get it now!" — Larry Roberts
"Just finished LLD. What a book! I've spent every spare minute reading it, and struggled to put it down when I had to for things like work and exams. Steve – it's brilliant. Really different in style to THE NOCTURNE, but equally captivating and enjoyable." — Neil, Scotland
"LOVE LIES DYING works best when you don't know what comes next, so to elaborate on the plot or its twists would be criminal, I'll just refer you to the title of the book and let you know Gerlach gives each word a thorough workout. The tale unfolds in a clear, vivid prose that doesn't bog you down with unnecessary detail, yet is descriptive enough so that you are there. You share the characters' joy and pain; you share their torment and their fears. Gerlach posesses a one-of-a-kind style, a singular voice of clipped sentences that pulls you along and at each chapter break leaves you hungering for more. The reader won't find it easy to put this book down because once you start, there's no stopping point. The narrative propels you along at a breakneck pace that leaves you wanting more. LOVE LIES DYING is a book you won't soon forget. It has moments of terror and pain that will stick in your throat like grandma's stew. " — Brent Zirnheld, USA. Author of "Lynchville Pop. 5150"
"Just thought I'd let you all know that I finished reading LOVE LIES DYING on the weekend. I figured that as the book hasn't reached everyone yet, I might give you a bit of an idea of what it's like! I really enjoyed it!! For those of you who have read THE NOCTURNE, this book is quite different from that one (well I thought so anyway). The story is filled with lots of gore, lots of sex and lots of PAIN!!! It kept my interest the whole way through, and kept me guessing right until the end with lots of twists and turns!! Ever since I started on Laymon books about 9 years ago, I can never seem to get through a book writen by another author… until now. Steve Gerlach's books are great, and if you want to talk about your biggest 'gross out' factor in a book, I would say that mine is in LLD!! His books are writen in a similar style to Laymon and keep you reading all through the night. If any of you are umming and ahhing about whether or not to get one or both of his books, I'd say that you're a loony if you miss out. I recommend both books to anyone who likes horror…which obviously you all do because you're here. So I guess what I'm saying is get your hands on them now!!!" — Tamra Reid, Australia
"Steve Gerlach owes me some sleep. I finished LOVE LIES DYING this past weekend in several marathon stretches. What a wicked read! You can see the Laymon influence in Steve's writing, but he's got a style all his own, a good one at that! LOVE LIES DYING is a well-crafted thriller that I would recommend to anyone. Steve, you are a sick and twisted person. Keep it up!" — Ron Dickie, USA
"I loved LLD! A real page turner and full of unexpected twists and turns. This book could never be described as predictable. There was a definite difference in style from The Nocturne. Still I enjoyed both of them very much." — Dana Danchik, USA
"I just finished Love Lies Dying. It is very hard to put into words how I feel right now. I don't know if a book has affected me mentally since The Girl Next Door. Honestly, I kept waiting on the edge of my seat till the very last word. Thank you so much for a story that won't leave me anytime soon. Let's get those hardcovers out there so more people can experience this roller coaster ride of twists, turns, and sexual fright. I noticed that the lettered edition of LLD that will be published is going to have a kiss mark from the real Zoe. I can't wait! Bravo!!" — Donald Koish, USA
"Love Lies Dying is an intriguing twisted tale of love, deception and betrayal. Prepare to be transported through the lives of Zoe and John; their troubled past, their unruly present and their desperate fight for a future. This is a true roller coaster journey, complete with all the ups and downs, hidden corners and sharp turns, and there is definitely no getting off this ride until it comes to a complete halt." — Sharon Gough, Australia
"Well what can I say? What a ride I have had – to hell (or somewhere similar, I imagine) and back again. It seems I have found another great author to keep me company of a night! 😉 An unbelievably good read which I now have passed onto a good (male) friend that I work with for his enjoyment. Though I have warned him (as he has never read this genre before) that he is likely to find himself 'squirming' now and then. Keep-em coming Steve" — Anne Lacey, Australia
"Just to let you know that I have finished Love Lies Dying and think it is sick, perverted & twisted – just what we all like. The scary thing is that over the last week I have gone to my local shops and on returning to my car I have had a red Jeep parked beside me…..that's eerie ha ha. Keep up the good work Steve, I love your stuff." — Annie G., Australia
"Love Lies Dying was great! The book had me on edge the whole way through. I couldn't see where it was going and couldn't wait to find out. Great locations – the church was fantastic. I could really feel the cold at times. It had a life of its own. It's great when a writer can create locations that are as interesting and realistic as a character. And that farm – very creepy. As for Zoe – what a gal! Overall it was well done. I probably enjoyed this novel a little better than The Nocturne – but I loved the fast paced action of The Nocturne. This novel got you into the characters a lot more, which I prefer. " — Brett McBean, Australia
"Love Lies Dying takes you on a rollercoaster ride through hell and back. Gerlach will push you into the deepest, darkest depths of the mind and what you find there will horrify you. Love Lies dying is a story like no other. The story is constructed from twist after twist and you won't know where it's going to go, even while you're reading the last page of the book. Gerlach's style is made to pull the audience in, to kidnap your mind and keep it stuck with the characters from the first page until the last. He picks you up and then throws you down again so many times that you'll come out of reading Love Lies Dying as a wreck. His characters are somewhat normal people who the audience easily relates to. Even the bad people in the book relate to us as human beings. Gerlach's choice of words and sentence structure makes LLD a nice, easy read. No, wait, easy isn't the right word. LLD is far from an easy book. It's hard, rough and painful! Never has a horror book taken us to such extremes, and that's a great thing for Gerlach. He's pointing the horror genre in a different direction while he shows us that horror doesn't just mean werewolves, vampires or homicidal maniacs killing just for the taste of flesh. It can mean normal people, pushed to their limits and far, far beyond. BE WARNED! Love Lies Dying is definitely not for the faint at heart. But, if you think you can hack it, stop reading my review and start reading Love Lies Dying – You won't regret it! " — Troy Taylor, Melbourne, Australia
"Steve Gerlach's LOVE LIES DYING is one suspense-filled rollercoaster ride of mayhem, madness, and masochism – and I thoroughly enjoyed every page of it! The language is crisp and sparkles with wit and ingenuity, and the enigmatic and compelling character of Zoe is one girl you will never, ever forget. The locations are superbly defined and became very real in my imagination. While the major plot twist becomes fairly obvious to astute readers about mid-way through Part One, Gerlach refuses to let readers off the hook, forcing his naive main character into ever more shocking situations and revelations, with such relentless inevitability that it will have the reader twisting in their chairs with suspense right to the end. It is that same sense of suspense that Richard Laymon wrote so well – the art of dragging an inept character deeper and deeper into trouble of their own misguided making – and it is an art which I believe Steve Gerlach has equalled the master in LOVE LIES DYING (and in some ways even excelled; because he NEVER gives in to our thirst for revelation until the last possible moment). You owe it to yourself to check out Steve Gerlach's work, as one of the most promising new talents to emerge in horror writing. As seen in LOVE LIES DYING, his writing is already top-notch, and will only continue to improve over time." — Shannon Rowe, Melbourne, Australia
Horrorfind review by Brian Keene
LOVE LIES DYING
Reviewed by: Brian Keene On Tue Jul 23 17:16:49 2002 Review rating: 4 Skulls
It would be easy to compare Steve Gerlach's writing to that of the late Richard Laymon. As he did many young horror authors, Laymon befriended the Australian writer. It's clearly evident to even the most casual reader that Gerlach cut his teeth on Laymon's sparse, hard-hitting and unique prose. The more dedicated horror fan will also know that Gerlach is responsible for the Richard Laymon Kills website (affectionately called RLK! by devotees worldwide).
Yes, the Master was an influence on Gerlach, and it shows. But in LOVE LIES DYING, Gerlach has developed a powerful voice that, while echoing of Laymon's style, is distinctly his own. He uses that voice to push the art of the psychological thriller to newer and even more brutal heights than any of his predecessors.
LOVE LIES DYING is the story John Murdock, an easily identifiable every-man caught up in a bizarre and horrifying chain of events. Wasting no time with literary feel-good nonsense, Gerlach opens with a bang. By the end of the first page, John's wife Helen is missing, and a clearly psychopathic nymph is lying naked on his couch. The serial killer/sex kitten turns out to be Zoe Barber, one of the most interesting and chilling female killers since Robert R. McCammon's MINE.
Zoe has something to do with Helen's disappearance, and if John can resist her advances and hold her at bay long enough, he might discover what that is. But time is running out for both John and his wife, and the terror is just beginning.
(And that's only in the first chapter!)
Gerlach's chapters read like short stories—complete, satisfying and leaving you wanting more. Skilled at both plot and pacing, his narratives keep the story moving at hyper-speed. This is the perfect summer book.
It will be interesting to see Gerlach's style develop with future offerings. If this sophomore work is any indication, he could prove to be a major name in psychological horror.
LOVE LIES DYING is a fast, fun and heart-pounding read! If you enjoy the works of Jack Ketchum, Ed Gorman, or (of course) Richard Laymon, then pick it up quick. The limited edition is sure to sell out fast! * * * Brian Keene serves as Horrorfind's Fiction Editor, and was the editor of the BEST OF HORRORFIND anthology. He is a four-time nominee and one-time winner of the Bram Stoker Award. His books include NO REST FOR THE WICKED, NO REST REDUX, TALKING SMACK, and 4X4 (co-written with Geoff Cooper, Michael T. Huyck and Michael Oliveri). His next book is the post-apocalyptic zombie novel MORE THAN INFINITY.
To learn more, visit his website at www.briankeene.com.
Buy online from Amazon US
Buy online from Amazon UK