Zoe Is Coming.
She's heard your call...and she's returning...
For the first time in mass market paperback, Kindle, iBooks and epub editions.
Early 2011.
More news soon.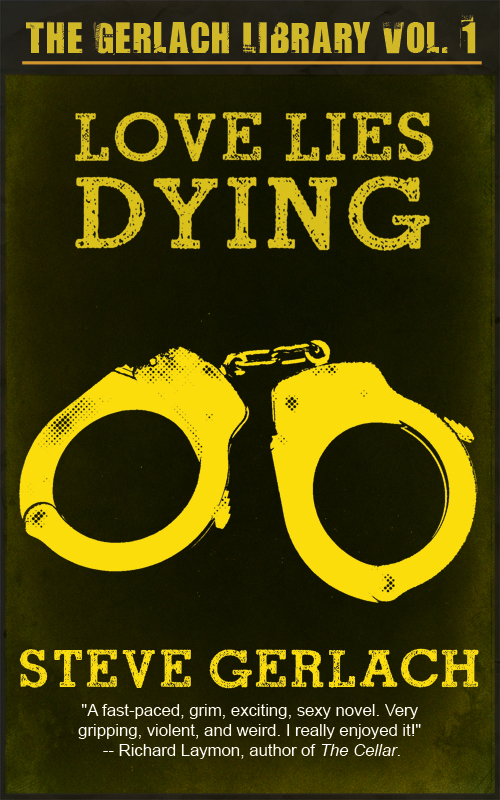 1000 METTLE FOLDS #2 on Horror Mall for October
It's great news to be able to report that 1000 METTLE FOLDS charted at #2 on Horror Mall for Pre-orders in the month of October. Very exciting news, especially with so few copies remaining before this one is SOLD OUT. Grab your copy now, or risk disappointment. This is CUT 1 in the series, so start your collection today!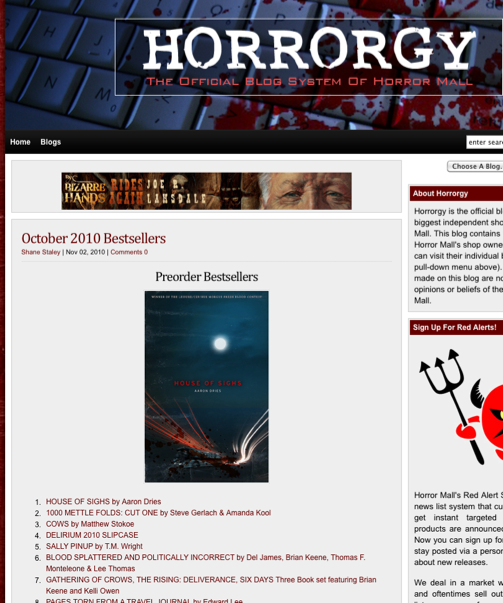 Use the link below to order:


https://www.horror-mall.com/1000-METTLE-FOLDS-CUT-ONE-by-Steve-Gerlach-Amanda-Kool-Limited-Edition-p-21320.html
1000 METTLE FOLDS official banner - spread the word.

Above is the official banner for the 1000 METTLE FOLDS release. As you'll notice if you click on it, it takes you directly to the order page for the book. Feel free to copy and paste to your own site/blog/webnation hangout as the numbers of this special release are quickly diminishing. It'll be sold out soon, so help spread the word. You'll need CUT 1 if you're going to keep up with CUT 2 through to 5!
A THOUSAND METTLE FOLDS up for preorder now!
It's been a long wait, but A THOUSAND METTLE FOLDS - CUT 1: THE FALL is now available for pre-order. This is a limited edition run which will be published on January 31st, 2011 through Morning Star in the USA. Get your order in now, as pre-orders are already half sold out.

Check out the link below to order yours today:


https://www.horror-mall.com/1000-METTLE-FOLDS-CUT-ONE-by-Steve-Gerlach-Amanda-Kool-Limited-Edition-p-21320.html


Cover artwork and synopsis follow: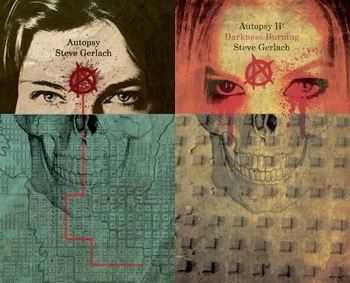 1888. The blood is only just drying in the streets of Whitechapel, when another gruesome murder takes place in the countryside.

Two men are on the run, desperate and hungry, while three specialists track the killer across the bleak winter landscape.

Their tracks lead to Oakridge - and the killer's next victim.

How do you contain an unstoppable beast?
How do you out think an evil that has killed for centuries?
How do you prove yourself innocent when the country screams for justice?
How can you run when the killer knows your every move?

Your past...your present...your future.

How long does it take for a man to fall?

This is cut one in a new series by Steve Gerlach and Amanda Kool

Nice review for Within His Reach
Screaming Dreams pre-release PR
I'm really excited to share the artwork of the pre-release posters for the Gerlach library being published by
Screaming Dreams
in the UK.

Click on the images below to see the full-size versions, or download the
Lake Mountain poster
(JPEG, 1.5MB) and
The Nocturne poster
(JPEG, 1.1MB) here.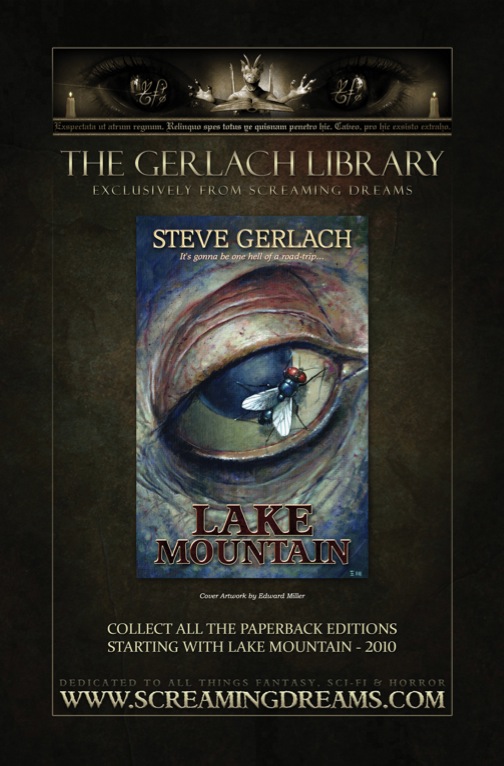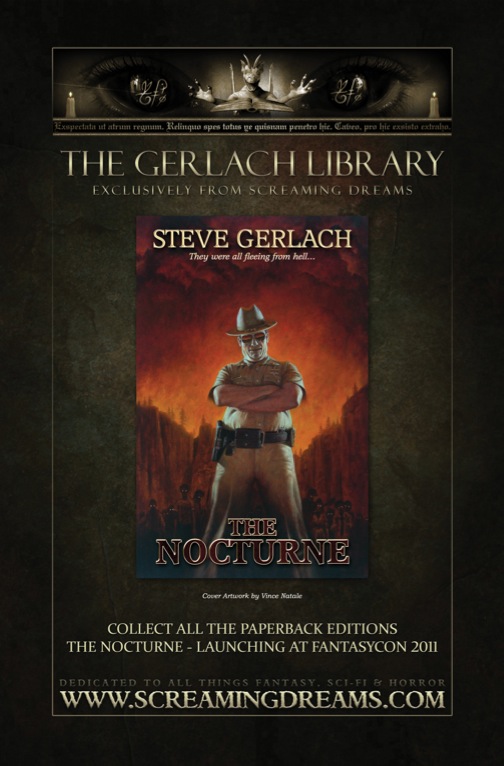 First chapter of Lake Mountain available for download
The terrific guys at
Screaming Dreams
in the UK have just updated the
LAKE MOUNTAIN
page on their website to include the 1st chapter of the novel - for free - as a PDF download!

Grab the PDF from here:
http://www.screamingdreams.com/lakemountain.html


There's also a "flip book" version of the extract on the same page, as some people prefer to read them online in this format.

This is just the start of some terrific extras coming from
Screaming Dreams
as they roll out my novels as paperbacks. I'm looking forward to their editions, and to getting my stories out to the people of the UK and Europe.

Next month,
LAKE MOUNTAIN
is unleashed for the first time both in paperback and in the UK. This is volume one in the Screaming Dreams Gerlach Library, and will be a collector's edition for sure!

It's a world-first, with stunning new cover artwork, so place your order today!

Audio releases in the pipeline
11 July, 2010
I'm delighted to report there's the possibility that some audio releases of my tales will happen soon. I was in the recording booth today, reading a story that a lot of people enjoy, and we hope to bring you this audio release in the near future.

More news on this as soon as it breaks.
WITHIN HIS REACH sold out!
Excellent news to hear that WITHIN HIS REACH is officially sold out from the publisher! There's a few copies remaining in bookstores, but once these have gone, there will be no more copies available. Congrats to Steve at Tasmaniac for all his dedication and professionalism in bringing this terrific story to the world. I hope to work with Tasmaniac again someday on another story I have in mind.
WITHIN HIS REACH is #6 on the Horror Mall Weekly bestseller lists!
I'm pleased to announce that WITHIN HIS REACH is currently #6 on the Horror Mall Weekly bestseller lists!


Buy WITHIN HIS REACH from Horrormall online here.

Review for WITHIN HIS REACH from HorrorWorld
More reviews are rolling in for
WITHIN HIS REACH
. Here's one from
HorrorWorld
:

WITHIN HIS REACH by Steve Gerlach;
Tasmaniac Publications
; 2010; 107 pgs.; $14.00

Whenever I'm presented a story in which the author proclaims he's penned as a tribute to The Twilight Zone, I am positive of one thing before starting it… that it will inevitably contain a "gotcha" , or a "holy cow!" moment, at or near the end of the piece. This isn't a negative for me, after all, who doesn't fondly recall watching all of those twilight episodes and wondering how the screenwriter was going to place that ironic twist at the end of the tale. The only thing I am not certain of when reading an author's homage to Rod Serling's series, is whether the story can live up to the high standards Serling demanded for his scripts. Within His Reach is Steve Gerlach's tribute to the man and his show, and I am pleased to report that Gerlach has done an outstanding job with this novella; it could have easily been the basis for a Twilight Zone script.
Gerlach gives us Arnold Enright, a man suffering badly from polio. It's the early 1950's, when drug stores still had fountains and pay phones. It was a time when people drove Oldsmobile Starfires and women usually wore dresses or skits. But unfortunately, it was also an era where polio was rampant, and the treatment for advanced cases was to place the patients in an iron lung. And that's where we meet Arnold, during his sixth year occupying his metallic prison.
Saying that Arnold has it bad is a gross understatement. His pregnant wife left him only a short time after he was placed in the iron lung, and he has never seen his daughter. His wife had been kind enough to send him a few pictures over the years of his young girl, and he has them placed above his head so he can continually gaze at them and wonder how she turned out. Or if she even knows of him. Of course, Arnold has become bitter of his situation, and he cannot stop thinking the worst about his wife for leaving him and for never bringing his daughter to the hospital to see him. Even suicide is not an option to help him forget his problems as he has no control of his body from the neck down.
Then one day, Arnold learns from his doctor that there is a new medical procedure that may be able to help him. He quickly agrees, and the doctor performs the operation.
When Arnold wakes up from the procedure, he inexplicably finds himself on a park bench.
To his amazement, he's breathing on his own, he can feel his body, and learns that he can walk again. He is jubilant to say the least, but confused as to why he's on the bench. Things get even stranger though; he discovers that he is alone in the park, and there doesn't seem to be anyone else he can see mulling around outside the park. When he strikes off to find others, he is at first startled to realize he's in his hometown, but then soon becomes excited at the prospect of visiting his home and finally getting to meet his daughter. Now if this were an actual Twilight Zone story, this is where that eerie jingle would kick in and the camera would pan on Arnold's face before we went to a commercial.
As you can guess, we learn quickly that things are not what they seem and Arnold makes one sad discovery after another. The oddest of them is a strange, low flying aircraft with uniformed men on a railing that slowly cruises over the town watching all that goes on below them. To write anymore about Arnold's plight would be to give too much away, but I will say, that sometimes when wishes are granted, they don't always turn out the way it's expected.
Steve Gerlach has hit the ball out of the park with Within His Reach. He has done an outstanding job following the basic tenets of a Twilight Zone story by keeping the tale thought provoking, morally positive, entertaining, and downright spooky. Fans of Gerlach who are accustomed to his more extreme horror tales will be surprised, there's not a bloody hammer to be found anywhere in this story, in fact, there's not an ounce of gore or extreme violence to be found on any of the pages. Here's hoping that he continues to write more work in this vein.
Within His Reach is another superb offering from Tasmaniac Publications. Their affordable trade paperback line of releases with their glossy and stunning covers, signed author sheets, interior artwork, and high quality paper, should be a model for all small presses. If you haven't picked up a Tasmaniac book yet, you owe it to yourself to give it a shot, and Within His Reach would be a great way to introduce yourself to this publisher.

--T. T. Zuma

Reviews for WITHIN HIS REACH begin
Just a quick note that now WITHIN HIS REACH is out in the wild, reviews are starting to appear.
Here's a direct link to one from
Dark Discoveries magazine
.
WITHIN HIS REACH is here!
My author copies of WITHIN HIS REACH arrived this week. Couldn't wait to hold them. They truly are lovely. Such a terrific production by everyone at Tasmaniac. I'm so proud. And with less than ten unaccounted for, this baby is about to be SOLD OUT!


Grab yours quickly before these disappear!

http://www.tasmaniacpublications.com/Withinhisreach.htm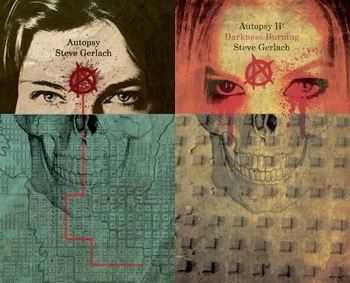 Site updates
02 March, 2010
I've made a few small tweaks to the site this evening to get
my bio
and
bibliography
up to date.
I've also changed some of the links, to further promote other ways that you can keep up to date with what's going on in my world:
Over the next week or so I'll be doing a few more tweaks, so if you've got any suggestions or have any questions that you'd like to ask, just get in touch. Either through twitter (
@stezza666
) or email me at
feedback@stevegerlach.com
UK Gerlach Library Announced
Finally, here's the news I've been working towards for the last few months...
I'm excited and honored to be able to announce that SCREAMING DREAMS PUBLISHING in the UK has just announced a exclusive deal to produce The Gerlach Library. This will be a full collection of all my novels, with proper artwork and design, starting with LAKE MOUNTAIN in September this year and THE NOCTURNE early in 2011.
Screaming Dreams is publishing some of the best UK dark fiction available, and they're fully committed to providing you with a proper collector's set of Gerlach Novels - all designed to compliment each other and look fantastic on your shelves. The books themselves will feature the very best artwork available for each novel, my own "author's preferred text" never before produced in any edition currently available, and the release schedule will be two novels a year.
There will be extras with each book, and I can guarantee the love and dedication to each novel that the guys at Screaming Dreams have already shown is simply amazing. They also have exclusive rights to my two new novels, which will be slated into the release schedule at a future date.
Below are the first "teaser" adverts (which make terrific bookmarks) for both LAKE MOUNTAIN and THE NOCTURNE.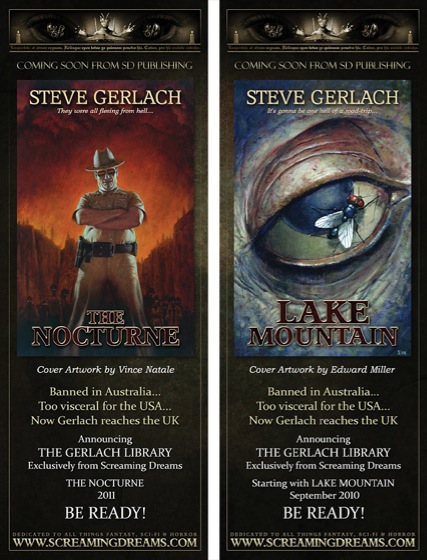 To find out more about each release, and order your copy, follow these links:
LAKE MOUNTAIN:
http://www.screamingdreams.com/lakemountain.html
THE NOCTURNE:
http://www.screamingdreams.com/thenocturne.html
I'm involved in these releases more-so than any other version of my novels, so expect frequent updates and news about these releases as I receive them.
If you only own one version of my novels, these are the versions you'll want to have!