LAKE MOUNTAIN available now!
10 May, 2012
LAKE MOUNTAIN comes to paperback this month
20 April, 2012
It's fantastic news to be able to announce that LAKE MOUNTAIN is being released later THIS month by the guys and girls at Legumeman Books.

This is the first time LAKE MOUNTAIN has been available in paperback, and it is also Volume 2 of The Gerlach Library available through Legumeman.

The Gerlach Library is a Legumeman Exclusive - all my novels in paperback and eBook formats, with matching collectors covers. The fantastic cover artwork for Volume 2 is below.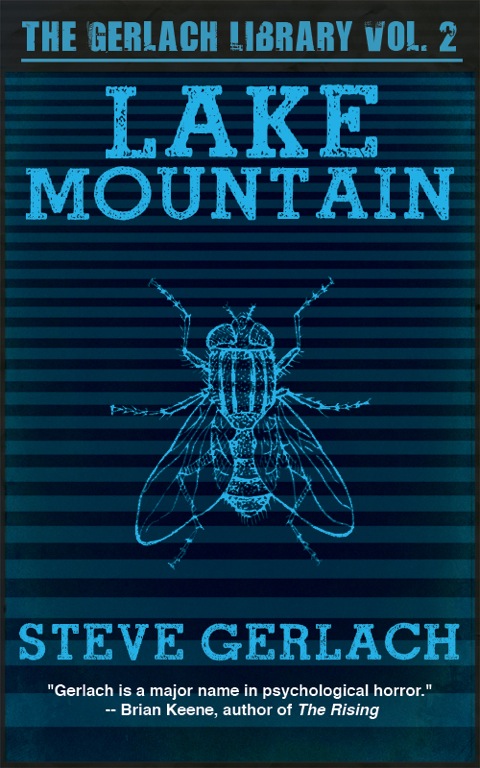 Keep an eye on the publisher's website at:
http://www.legumeman.com/index.html
for more news on this release. As soon as we know more about the release, we will post it here as well.


Old Lake Mountain Trailer back online
06 May, 2011
Aaaah, memories.... my good friend Scott Tyson has uploaded a very old movie trailer I did for the initial release of LAKE MOUNTAIN. You can find it here:
LAKE MOUNTAIN movie trailer
It's about ten years old (and I'm about thirty kilos heavier!) but still, enjoy!
Screaming Dreams pre-release PR
05 September, 2010
I'm really excited to share the artwork of the pre-release posters for the Gerlach library being published by
Screaming Dreams
in the UK.

Click on the images below to see the full-size versions, or download the
Lake Mountain poster
(JPEG, 1.5MB) and
The Nocturne poster
(JPEG, 1.1MB) here.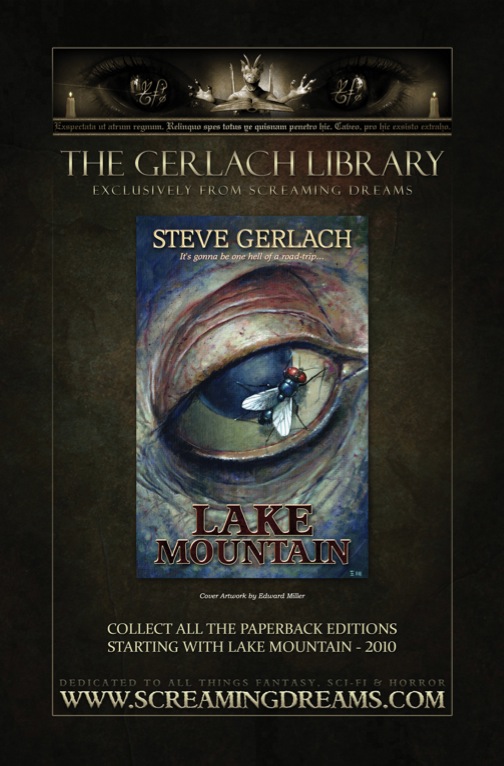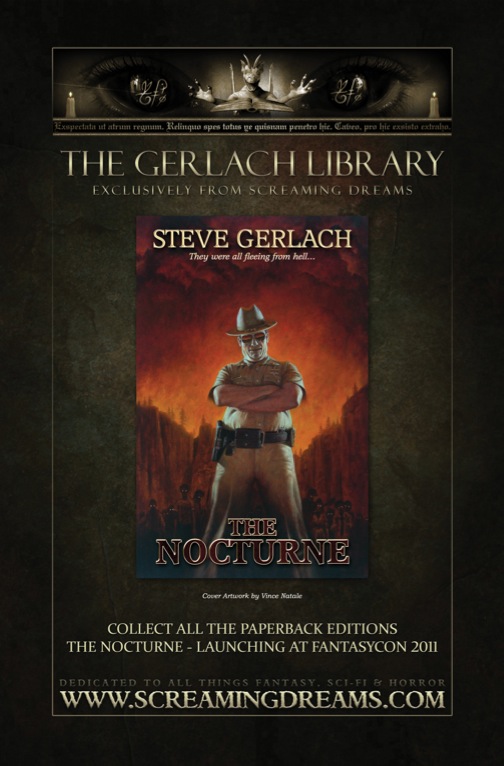 First chapter of Lake Mountain available for download
15 August, 2010
The terrific guys at
Screaming Dreams
in the UK have just updated the
LAKE MOUNTAIN
page on their website to include the 1st chapter of the novel - for free - as a PDF download!

Grab the PDF from here:
http://www.screamingdreams.com/lakemountain.html


There's also a "flip book" version of the extract on the same page, as some people prefer to read them online in this format.

This is just the start of some terrific extras coming from
Screaming Dreams
as they roll out my novels as paperbacks. I'm looking forward to their editions, and to getting my stories out to the people of the UK and Europe.

Next month,
LAKE MOUNTAIN
is unleashed for the first time both in paperback and in the UK. This is volume one in the Screaming Dreams Gerlach Library, and will be a collector's edition for sure!

It's a world-first, with stunning new cover artwork, so place your order today!

UK Gerlach Library Announced
23 February, 2010
Finally, here's the news I've been working towards for the last few months...
I'm excited and honored to be able to announce that SCREAMING DREAMS PUBLISHING in the UK has just announced a exclusive deal to produce The Gerlach Library. This will be a full collection of all my novels, with proper artwork and design, starting with LAKE MOUNTAIN in September this year and THE NOCTURNE early in 2011.
Screaming Dreams is publishing some of the best UK dark fiction available, and they're fully committed to providing you with a proper collector's set of Gerlach Novels - all designed to compliment each other and look fantastic on your shelves. The books themselves will feature the very best artwork available for each novel, my own "author's preferred text" never before produced in any edition currently available, and the release schedule will be two novels a year.
There will be extras with each book, and I can guarantee the love and dedication to each novel that the guys at Screaming Dreams have already shown is simply amazing. They also have exclusive rights to my two new novels, which will be slated into the release schedule at a future date.
Below are the first "teaser" adverts (which make terrific bookmarks) for both LAKE MOUNTAIN and THE NOCTURNE.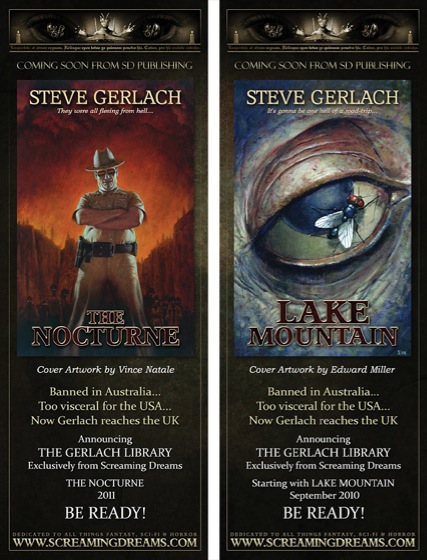 To find out more about each release, and order your copy, follow these links:
LAKE MOUNTAIN:
http://www.screamingdreams.com/lakemountain.html
THE NOCTURNE:
http://www.screamingdreams.com/thenocturne.html
I'm involved in these releases more-so than any other version of my novels, so expect frequent updates and news about these releases as I receive them.
If you only own one version of my novels, these are the versions you'll want to have!
Lake Mountain trailer
15 February, 2009
Amber Rising cover art
07 February, 2009
Hot on the heels of the unveiling of the artwork for the
Cargo Cult Press
edition of INJUSTICE, we're proud to be able to show you the cover artwork for the free chapbook which is being given away with INJUSTICE. Yes, it's AMBER RISING, which takes place after LAKE MOUNTAIN and features one of the main characters.
More information on this release can be found on the
Cargo Cult website
. All we'll say is it's a nice nasty piece.
INJUSTICE (and AMBER) will be shipping soon.
Gerlach goes Down on Katy!
16 November, 2008
My new short story, DOWN ON KATY - DAY IX has been written for the Larry Roberts, Bloodletting Press, FIRST CUTS project. This was a secret project that was designed as a tribute to the earliest days of Bloodletting Books.
The anthology was delivered to Larry on Halloween, much to his surprise and delight as all knowledge of this project was kept from him. It will probably be published next year.
Many thanks to David Niall Wilson - the brains behind the project.

Amber's chapbook with Injustice
13 November, 2008
AMBER RISING is the short story that continues from where the events of LAKE MOUNTAIN left off.
Cargo Cult Press is offering the AMBER RISING chapbook with preorders for INJUSTICE, as no other copies will then be produced.
AMBER RISING looks set to follow CellCaNdy as another very rare Gerlach collectible.
Check out the
Cargo Cult Press
website for more details.
Massive update!
19 December, 2007
It's been a long time between updates here at SteveGerlach.com, due mainly to work and editing commitments. However, we hope to rectify that in the new year, and to also bring you some very exciting exclusives in the months ahead. For now, let's play a little catch-up, as we bring you up to speed with the latest Gerlach news...

Harmony Chokes writing continues...
Work on Harmony Chokes continues with a probable deadline of late 2008. This novel is a little different to those that went before it, but it's going to be quite a ride nonetheless. Look for exclusive updates early next year... including some missing scenes that will only be available online here at SteveGerlach.com!



Lake Mountain UK paperback artwork released...
Screaming Dreams Press has released the initial artwork for their 2008 UK paperback release of Lake Mountain. This fantastic new vision of Lake Mountain comes from renowned artist Les Edwards. We all agree it's a fantastic cover!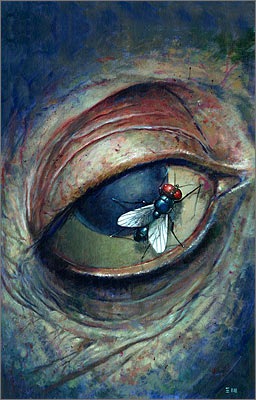 Aussie publisher announces Exclusive Gerlach for 2009!



Tasmaniac Publications
is a new Aussie publisher who is creating quite a stir. Excellent, ultra-limited editions are the name of the game here, and the guys behind Tasmaniac have locked Gerlach in for a 2009 release, tentatively titled All That Is Within His Reach. No more news on this one at this stage, other than it will be a short novel released in 2009. Find out more about Tasmaniac (along with the other fine authors they're releasing) at: http://www.tasmaniacpublications.com.au/.
Artwork for US version of The Nocturne underway.

Vince Natale, the cover artist for the Bloodletting Press version of The Nocturne, reports that the cover art is progressing nicely and hopefully early in 2008 we'll be able to provide you an exclusive sneek peak. From what we've seen so far, it will be another excellent cover for Bloodletting Books!
1000MF release date firms.

Bloodletting Press also report that soon after the release of Hunting Zoe and other tales (see below), the first book in the A Thousand Mettle Folds series will see release. More details (including the cover) can be found below in our April 27 news update, or on the dedicated 1000MF page on this site.
Hunting Zoe almost here! TOC announced!
Hunting Zoe and other tales.. is with the printers as we speak and we're looking at a late 2007/early 2008 release from Bloodletting Press. This is a very exciting release, finally giving Hunting Zoe the love and dedication she deserves. The Table of Contents has also been released, giving everyone an insight into the extra special additions to this release. The TOC is:
* When Fantasy Met Reality - Hunting Zoe introduction by Brett McBean
* Hunting Zoe
* Broken Cookie - short story
* Schism - short story
* CellCaNdy - short story
* Dead of Night - German version - first English release short story
* Jungle - short story, first time printing
* Steve Gerlach On The Edge - FULL and UPDATED Gerlach interview with Ron Clinton.
This release collects for the first time five Gerlach short stories, some of which see their first US release and, in the case of JUNGLE, it's first printing anywhere. The interview is an updated and uncut interview between Gerlach and Clinton - an abridged version first seeing print in Cemetery Dance Magazine a few years ago.
Ben Jackson to Kill Bill?

We've seen filmed evidence of a certain American director being handed a copy of RAGE during a UK meet-and-greet. If we can get clearance to show the footage, we'll upload it early in the new year.
ILT final cover announced. Mid 2008 release.
Cemetery Dance has released the finalized cover artwork for IN LAYMON'S TERMS. The signature sheets have been returned and we can look forward to this excellent memorial to Richard Laymon's work being released (finally!) in 2008! Fingers crossed! This is the huge tribute anthology edited by Kelly Laymon, Steve Gerlach and Richard Chizmar.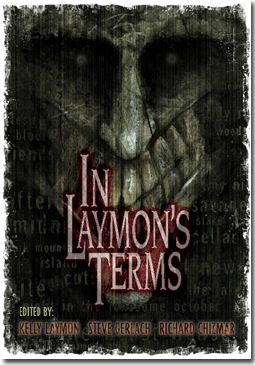 Gerlach UK Paperback releases announced!
25 July, 2007
Excellent news reaches us that Screaming Dreams Press in the UK has signed and sealed a deal to release paperback editions of all Gerlach novels. The first release will be LAKE MOUNTAIN early in 2008. Here's what Screaming Dreams editor, Steve Upham, had to say in a recent email newsletter:
I've updated the What's New page to include a brief announcement regarding the Steve Gerlach novels. Some of you may already be aware of this info as the deal has been in progress for a while, but I'm only just getting around to making the news public now.For those of you who may not be familiar with Steve's work, he is one of of Australia's foremost dark thriller writers and has released some wonderful novels through Bloodletting Press in the US. I look forward to working with him on these titles.The first book to be released will be LAKE MOUNTAIN and is sheduled to be published early in 2008. I will add further details and upload a dedicated page for this book in due course.
The dedicated page for LAKE MOUNTAIN is now online and can be found at: http://www.screamingdreams.com/index.html?lang=en-uk&target=d23.html. Screaming Dreams is committed to releasing paperback editions all of the Gerlach novels in the next few years, and they will be widely available through the publisher's website, Amazon.co.uk and Amazon.com. Brilliant!
Bloodletting Press to announce THE NOCTURNE US edition!

It's yet to be announced, but we're 100% certain that Bloodletting Press will soon confirm the release date of Gerlach's hardest-to-find novel, THE NOCTURNE, for an early 2008 release. HUNTING ZOE AND OTHER STORIES is on track for a late 2007 release, and we believe Bloodletting want to follow it up with THE NOCTURNE as soon as possible. More news on this when it breaks, but expect an excellent cover by Vince Natale (artist for the Bloodletting editions of LAKE MOUNTAIN and LOVE LIES DYING) and an introduction by Barry Hoffman.
LAKE MOUNTAIN mention in Aussie Crime Series
Those who like their noir crime novels with an Aussie feel could do no better than to check out the Joe Blake series of Aussie Crime Noir releases. We even spotted this little mention of LAKE MOUNTAIN in the latest Blake book WARNING SHOTS LAST: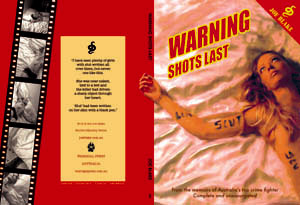 Outside the first drops from a storm splattered onto the hot pavement. It was steamy. I could feel the sweat running down the back of my legs. Thunder boomed and shafts of lightning cracked over the city. A water bomber droned overhead as it headed towards Two Rocks to put out a fire started by bored kids who loved to watch the planes at work. I was in a mean mood but I hadn't completely lost it. I went back inside and took off my holster and locked the Glock in the wall safe along with my collection of early Phantom comics and my signed copy of Steve Gerlach's Lake Mountain. It was a wise move, the smartest thing I'd done all day.
Copies of the book, and details of the whole series, can be found at: www.joeblake.com.au
LAKE MOUNTAIN Lettered editions complete!
15 June, 2007
Check out the images below to see the wonderful Lettered editions of LAKE MOUNTAIN. Bloodletting Press have done a fantastic job on these copies, which will accompany the metal tray case pictured in our April 7 update. These are already SOLD OUT from the publisher, but a search of the web may turn up a copy or two...


It's official! LAKE MOUNTAIN and LOVE LIES DYING now SOLD OUT!
27 April, 2007
Bloodletting Press announced this week that the limited edition hardback versions of both LAKE MOUNTAIN and LOVE LIES DYING are now SOLD OUT from the publisher! This is terrific news, but it means if you haven't yet got your copies, you should order ASAP from any of the usual online venues! Hurry before the remaining copies disappear!
LAKE MOUNTAIN Lettered Edition traycase design!
07 April, 2007
www.bloodlettingbooks.com
has released photos of the final design for the lettered edition traycase of LAKE MOUNTAIN. As you can see, the traycase is designed as a trailer (or caravan, depending where you live in the world) and looking through the window, you can see Raven staring out at you. There's even a little light inside, so when it's dark she can keep an eye on everything you do! This is another great design from Bloodletting, who have also produced the fantastic traycase for RAGE.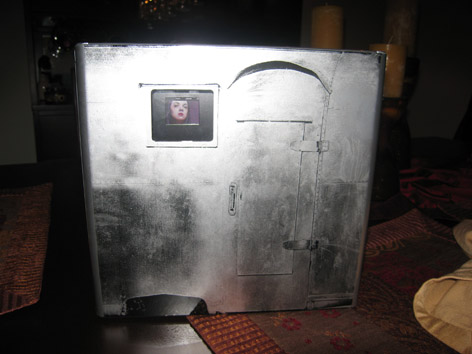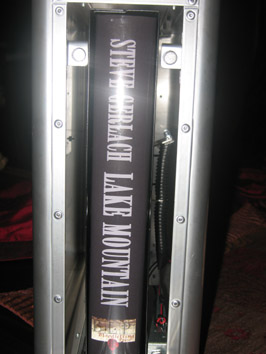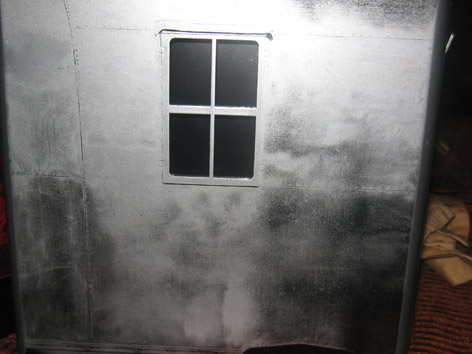 LAKE MOUNTAIN makes Keene's Top 10 Reads of 2005.
15 January, 2006
In Brian Keene's yearly roundup of best novels for 2005, LAKE MOUNTAIN came in at #10! Here's what Brian had to say about the novel:
10. Lake Mountain by Steve Gerlach (Bloodletting Press) Unrelenting, this is another page-turning thriller from the heir-apparent to Richard Laymon's legacy. Seriously, if you dig Laymon, you'll dig this. But here's the thing. It's very easy to compare Steve to Dick. The influence is obviously apparent. But Steve's voice has truly grown with this book. He is his own writer, with his own style that, while offering a nod to Laymon, now becomes something more.
The entire list can be found at Brian's blog website
http://www.hailsaten.blogspot.com/
.
LAKE MOUNTAIN now shipping!
02 September, 2005
Yes, LAKE MOUNTAIN is now shipping, with copies heading across the world. Raven has been spotted in the US and also Down Under in Australia. We expect her to appear in the UK within days. Readers wishing to write reviews are invited to send them to us here and we will upload them to the LAKE MOUNTAIN page.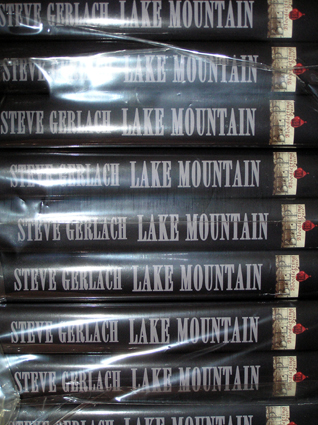 LAKE MOUNTAIN Update - Released August 6!
01 August, 2005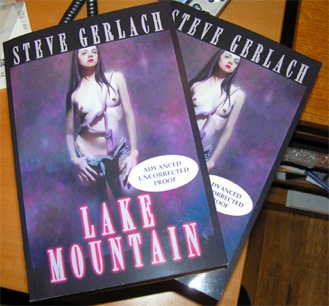 Here's living proof that LAKE MOUNTAIN is almost here!
The ARCs (Advance Readers Copies) have been produced and are now hitting media organisations world-wide. Bloodletting Press take delivery of the limited edition hardbacks on the 5th of August and will begin shipping them the day after. So, LAKE MOUNTAIN is as good as released! If you can, pre-order before August 5 to go into the draw for the manuscript version of the first draft of the novel. See May 4 update below for more details on the competition.
Bloodletting Announcements Pending...
01 July, 2005
Rumour also has it that there are a couple of exciting announcements to be made by Bloodletting Press as soon as LAKE MOUNTAIN is released. The novel is currently at the printers and is due to ship mid-July, so look for an announcement concerning some exciting Gerlach news (both fiction and non-fiction!) soon afterwards. We'll report it here as soon as we hear it too!
LAKE MOUNTAIN cover revealed LAKE MOUNTAIN final cover revealed LAKE MOUNTAIN final cover revealed LAKE MOUNTAIN final cover revealed LAKE MOUNTAIN final cover revealed LAKE MOUNTAIN cover revealed
14 May, 2005
With Lake Mountain now at the printers, we're proud to be able to bring you the exclusive first look at the final cover for the Bloodletting Press hardback editions: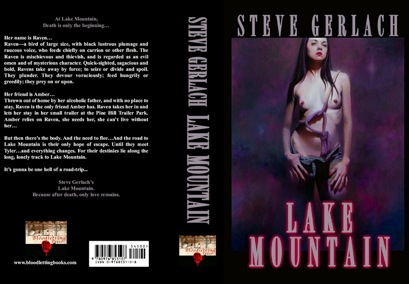 We love the cover, and we're sure you will too. If you haven't already ordered, hurry as pre-orders are about to close and you'll miss your chance of winning the 1st draft manuscript of the novel (see the May 4 update for more details...). This competition is only open to those who PRE-ORDER LAKE MOUNTAIN through http://www.bloodlettingbooks.com. Orders can also be placed through Shocklines.com.
Win 1st Draft manuscript of LAKE MOUNTAIN
04 May, 2005
Here's your chance to win a signed (and thumb-printed) 1st draft manuscript of LAKE MOUNTAIN:
"Books are living documents. The characters live and breathe within the pages, the settings exist and the plot is ever-changing, right up to the final line.
As a book grows and the story evolves, characters change, scenes are added and removed. In fact, some sections of the tale can end up somewhere completely different from where they started. Characters are written in and out, whole plot lines are strengthened or deleted. Final outcomes can change with just the tweaking of a sentence or two.
LAKE MOUNTAIN is no different. It grew and evolved from the first draft. As the drafts were revised and edited, some ideas were added and some let go. As the 'special few' read an advance draft, they contribute different ideas and suggestions as well, making for a more coherent final story. This is how a novel evolves.
First drafts are usually deleted, burned or hidden away, never to see the light of day again. They hold the secret story, the 'director's cut' if you like, or 'writer's first cut' of a novel, laid bare in all its harsh reality - the errors, the bad grammar, the spelling mistakes, the removed sub-plots, the character and plot flaws...
Usually, no one except the inner circle get to see these early drafts, sometimes, only the author himself. But on LAKE MOUNTAIN, anything is possible.
With LAKE MOUNTAIN, you now get the chance to see how it would have all originally turned out. One very special reader out there is going to get to see inside the author's mind, to see the 'writer's rough cut' of LAKE MOUNTAIN.
You have the chance to venture where no one else is allowed. Feel game?" -- Steve Gerlach, April 2005
Bloodletting Press is giving you the chance to win the 1st Draft of LAKE MOUNTAIN, in its original manuscript form, complete with Steve Gerlach's bloody thumb print! It's too cool for words! And the original photograph of the model as she sat for the cover art portrait of LAKE MOUNTAIN. There is only one of these!
But time is running out. This competition is only open to those who PRE-ORDER LAKE MOUNTAIN through http://www.bloodlettingbooks.com.
Everyone who pre-orders this 1st Edition Gerlach release goes into the draw. Each pre-order gives you another chance to win. So order for your father, your friends, your sister or neighbors today! Each pre-ordered edition will be specially packed before delivery. One lucky copy will have an original photo of the cover model posing for the painting of the cover. The customer who receives that copy wins the competition and will receive the specially inscribed 1st draft manuscript of LAKE MOUNTAIN, direct from the author himself and an original photograph of the model as she sat for the cover art of Lake Mountain.
All Bloodletting Press lifetime members will automatically be entered into this drawing. Everyone who's already pre-ordered this book from the publisher will also be entered.
Enter now! The competition closes soon! Pre-order today at Bloodletting Press.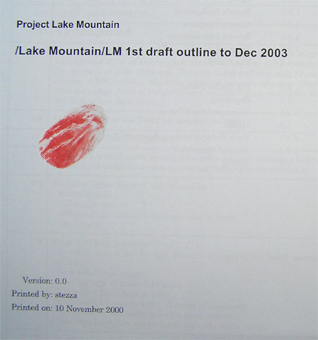 Gerlach Tours #1 a success...
18 April, 2005
At the end of March, Steve hosted the first ever Gerlach Tour, an all-day event taking place in and around Melbourne, Victoria. The tour took the participants to scenes and settings found in RAGE, Love Lies Dying and the soon-to-be-released Lake Mountain.

Photos of the day will be uploaded soon. The feedback from the first tour has been so positive that we expect more tours to happen in the near future. Anyone interested in taking part in a future tour who either lives in Melbourne or will be visiting the city, should drop us a line and register your interest.
LAKE MOUNTAIN Released this month
18 April, 2005
Work is almost complete on LAKE MOUNTAIN and it will appear in the US in hardback later this month.
The cover art is designed, the signature pages are signed, and we hope to see it being delivered later this month or early May.
If you haven't already, make sure you shoot over to the Bloodletting Press website and order your copy before it's too late! Shocklines.com is also taking orders, so you could place an order there too.
You can check out the cover blurb and reader feedback on the Lake Mountain page.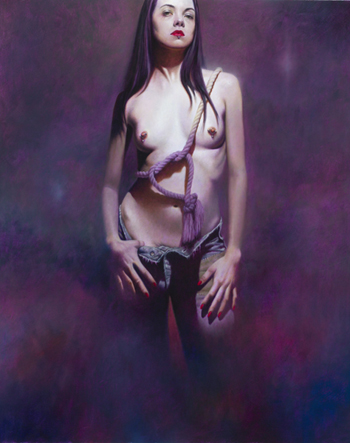 LAKE MOUNTAIN on track...
12 March, 2005
The final edits are in, and the publisher has the final draft of LAKE MOUNTAIN. We'll keep you informed every step of the way, so you know exactly what is happening and when the novel is due. Very very soon now, LAKE MOUNTAIN will be unleashed on the world!
Gerlach in hiding to complete LAKE MOUNTAIN
26 July, 2004
We've got word that Steve has locked himself away, taking time out to finish LAKE MOUNTAIN.

He has gone to ground somewhere in Portsea, Victoria, taking as much time as needed away from the world to finish the final draft of LAKE MOUNTAIN. He will return home only when the final draft is complete.

Deadline for handing in the finished manuscript is October 1, for a January 2005 hardback release.

<<>>

Steve is back in the world with us now, taking just over three weeks to put the final touches to the manuscript. We believe he has handed it in to the publisher by the October 1 deadline, so we can expect to see LAKE MOUNTAIN early in the New Year. Excellent news!
Gerlach Interview for Cemetery Dance Magazine
05 April, 2004
Cemetery Dance magazine is running an in-depth interview with Steve, which he has just concluded. It is scheduled
for Issue 51, which should be out around September sometime. Of course, sometimes magazine deadlines slip, so keep an eye out if it's not on the stands in September. Either way, it WILL appear in issue 51!
The interview itself is one of the most complete and in-depth interviews Steve has ever given. It covers all his novels and short stories, views on writing and publishing, and also gives some insights into where Steve finds his inspiration, as well as what he'll be working on after LAKE MOUNTAIN.
Keep checking the Cemetery Dance site for more details. And, of course, we'll bring you more news about the interview when we receive it.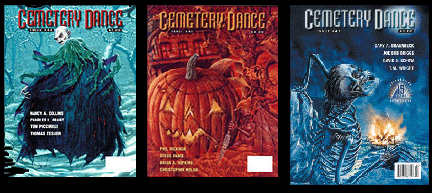 LAKE MOUNTAIN News from Bloodletting Press.
11 February, 2004
Earlier this week, Bloodletting Press announced that they would publish Gerlach's latest novel, LAKE MOUNTAIN.

After the announcement, the Lettered Edition sold out from the publisher in 12 hours! A Gerlach World Record!

But copies may still be available from http://www.shocklines.com. So check there is you're after a very special Gerlach Lettered Edition!

Speaking of which, LAKE MOUNTAIN is Steve's second bestseller of the week, topping the Pre-sales Bestseller List at Shocklines while RAGE sat at #1 on the Bestseller List! Check the LAKE MOUNTAIN page for more details and make sure you order your copy soon - this one is going to sell out very quickly!

LAKE MOUNTAIN: 1st Draft Complete!
08 January, 2004
It's official! The first draft of LAKE MOUNTAIN is complete!

Steve emailed us to let us know that his first full draft was completed yesterday, and that he's very happy indeed with it. Great news for all of us!

Apparently, the novel weighs in about the same size as LOVE LIES DYING, so that means we have a huge Gerlach-fest awaiting us when it is published!