LAKE MOUNTAIN Update – Released August 6!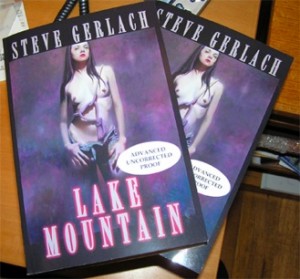 Here's living proof that LAKE MOUNTAIN is almost here!
The ARCs (Advance Readers Copies) have been produced and are now hitting media organisations world-wide. Bloodletting Press take delivery of the limited edition hardbacks on the 5th of August and will begin shipping them the day after. So, LAKE MOUNTAIN is as good as released! If you can, pre-order before August 5 to go into the draw for the manuscript version of the first draft of the novel. See May 4 update below for more details on the competition.