UK Gerlach Library Announced
Finally, here's the news I've been working towards for the last few months…
I'm excited and honored to be able to announce that SCREAMING DREAMS PUBLISHING in the UK has just announced a exclusive deal to produce The Gerlach Library. This will be a full collection of all my novels, with proper artwork and design, starting with LAKE MOUNTAIN in September this year and THE NOCTURNE early in 2011.
Screaming Dreams is publishing some of the best UK dark fiction available, and they're fully committed to providing you with a proper collector's set of Gerlach Novels – all designed to compliment each other and look fantastic on your shelves. The books themselves will feature the very best artwork available for each novel, my own "author's preferred text" never before produced in any edition currently available, and the release schedule will be two novels a year.
There will be extras with each book, and I can guarantee the love and dedication to each novel that the guys at Screaming Dreams have already shown is simply amazing. They also have exclusive rights to my two new novels, which will be slated into the release schedule at a future date.
Below are the first "teaser" adverts (which make terrific bookmarks) for both LAKE MOUNTAIN and THE NOCTURNE.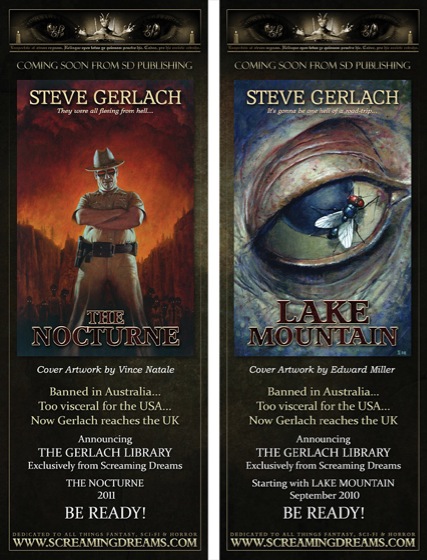 To find out more about each release, and order your copy, follow these links:
LAKE MOUNTAIN: http://www.screamingdreams.com/lakemountain.html
THE NOCTURNE: http://www.screamingdreams.com/thenocturne.html
I'm involved in these releases more-so than any other version of my novels, so expect frequent updates and news about these releases as I receive them.
If you only own one version of my novels, these are the versions you'll want to have!