ZOE RELEASED! Hits #1 and she's almost sold out!
It's been a busy month with the release of Hunting Zoe and other tales on the 13th of April (a perfect date!)
Stocks have been seen across the US, in the UK and we have reports copies are now available in Australia. So get searching before she disappears! Zoe went straight to the Number 1 spot at www.horror-mall.com and is in danger of SELLING OUT before the end of the month!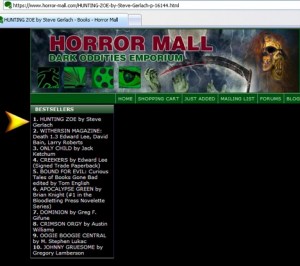 So, if you haven't captured her yet, time is running out! Pre-orders can be taken here: www.bloodlettingbooks.com and www.horror-mall.com.
Feedback so far has been extremely positive, with many readers finally realising a long-held dream of reading the very hard to find "sequel" to LOVE LIES DYING. The short stories and interviews contained within the volume have also been keenly discussed, due to their rarety anywhere outside of Australia. The feedback has been terrific!
So, grab your copy before Zoe steps back into the mists and disappears again until…. who knows when?