The Nocturne dust jacket
Ladies and gents, as promised.. here is the dust jacket layout for THE NOCTURNE - soon to be published by Bloodletting Press.
There is some debate about whether or not any future Gerlach Library releases through Bloodletting will have a dust-jacket at all... so it's quite possible this dust jacket will NEVER be used. If you'd like to have your copy of THE NOCTURNE with a dust jacket, and to continue the same "look and feel" for every Gerlach release, email Bloodletting and let them know you want the dust-jackets to remain!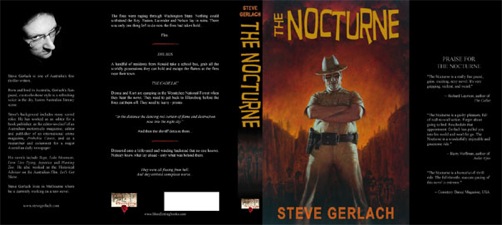 The Nocturne artwork revealed!
As promised, we bring you the world-wide exclusive unveiling of the artwork for THE NOCTURNE.
This excellent piece was painted by
Vince Natale
, who also created the covers for Love Lies Dying and Lake Mountain.
I'm sure you will agree it's a stunning visual interpretation of the novel.
THE NOCTURNE is due out soon through Bloodletting Press. We'll have the dust jacket artwork to upload here soon.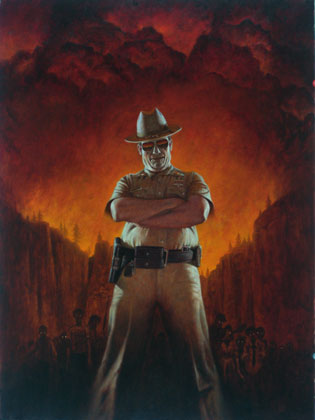 The Nocturne artwork released soon
Vince Natale is putting the finishing touches on the artwork for THE NOCTURNE, due next year from Bloodletting Press. What I've seen so far is awesome, and will continue the fine tradition of excellent artwork for the Gerlach Bloodletting Range. As soon as I see the finished artwork I will upload it here.
Gerlach goes Down on Katy!
My new short story, DOWN ON KATY - DAY IX has been written for the Larry Roberts, Bloodletting Press, FIRST CUTS project. This was a secret project that was designed as a tribute to the earliest days of Bloodletting Books.
The anthology was delivered to Larry on Halloween, much to his surprise and delight as all knowledge of this project was kept from him. It will probably be published next year.
Many thanks to David Niall Wilson - the brains behind the project.

Amber's chapbook with Injustice
AMBER RISING is the short story that continues from where the events of LAKE MOUNTAIN left off.
Cargo Cult Press is offering the AMBER RISING chapbook with preorders for INJUSTICE, as no other copies will then be produced.
AMBER RISING looks set to follow CellCaNdy as another very rare Gerlach collectible.
Check out the
Cargo Cult Press
website for more details.
Site Update and RSS feed!
12 November, 2008
We've brought
stevegerlach.com
screaming into the...well... the 21st Century, with a complete site overhaul and upgrade.. We hope you like it. I think it'll be much easier to navigate and find those news updates you're after. The navigation has moved to the top right side of the site, in the new navigation bar, and we've instituted tags, so from now on you can even search for updates on specific books, artwork, stories and so on.
Also note I now have an RSS feed, for those who prefer to get their updates pushed to them via RSS and not just via email. Subscribe to the
RSS here
, or at the bottom of the navigation bar. I'll migrate away from email updates to RSS in the coming months.
So, feel free to have a look around the new site and let us know what you think of the new design. Feel free to report any missing images or links to us as well. The site may have changed, but the
email
is the same.
Injustice artwork revealed!
We're thrilled to be able to bring you the cover artwork for INJUSTICE, the next Gerlach release. Check it out below.
A reminder that this will be an ultra-limited hardback release of only 150 limited copies, plus an ultra limited Lettered edition through Cargo Cult Press, and is able to be ordered now through
Horror Mall
.
Snap up your copy now as pre-orders are taking the last remaining copies of both editions and this title will be sold out before publication!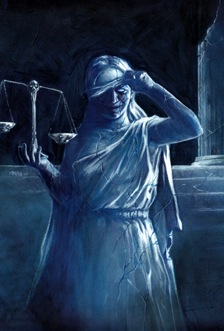 Hunting Zoe Lettered Edition Prototypes!
The latest news from Bloodletting Press is that work is almost complete on the Hunting Zoe lettered editions!
They've decided to go with the yellow on this one. The PC copies will likely be done in the pink. All lettereds will be bound in butter soft calf. Inside we have yellow Spanish marbled endpapers, with a silk ribbon marker, finished off with a silk inlay signature sheet protector.
Pictures of the traycase will follow shortly.
Bloodletting Press have done a fantastic job on these copies and they are already SOLD OUT from the publisher, but a search of the web may turn up a copy or two... Zoe couldn't ask for more.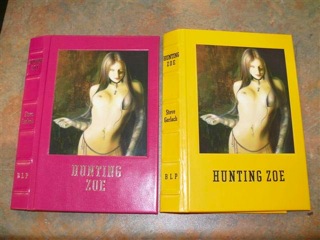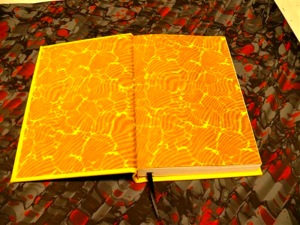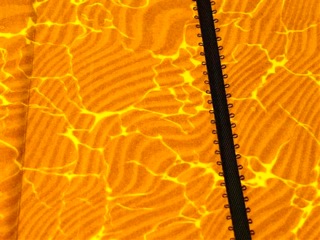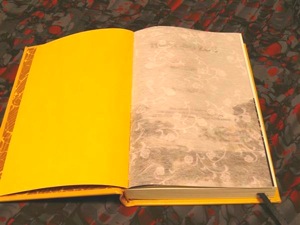 New Publisher - New Release!
Breaking news sees a new Gerlach novel scheduled to be released later this year through new US publisher, CARGO CULT PRESS! The novel is INJUSTICE, Gerlach's second novel written way back in 1991, and is closest in tone and style to RAGE. So that should keep fans of RAGE happy!
INJUSTICE is one from the Gerlach Archives, leaving only UNFORESEEN CIRCUMSTANCES hidden away from readers. And this novel will be sold with the tag line:
"The greatest injustice of all, is that which is not avenged."
More news on INJUSTICE as we receive it, but we can confirm it will be an ultra-limited hardback release of only 150 limited copies, plus an ultra limited Lettered edition and is able to be ordered now through
Horror Mall
.
Snap up your copy now as pre-orders are taking the last remaining copies of both editions and this title will be sold out before publication!
Cover art and jacket text will be uploaded here when we receive it! For now, check out our feature page on the new release here!
Deutsch Gerlach jetzt erschienen!
Gerlach hits Germany with a short story released in the anthology Masters of Unreality from Eloy Edictions. This is the first German edition of any Gerlach tale, and paves the way for the release later this year of ZORN, the German edition of RAGE. After ZORN, plans are in place to release Nachtszene, the German version of THE NOCTURNE.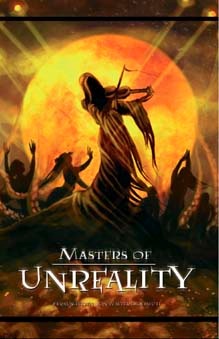 The short story in Masters of Unreality is called "Im Dunkel der Nacht", and those English-speaking fans who are worried they're missing out on a new story need to look no further than Hunting Zoe and other tales where the story is reprinted in English as Dead of Night (German Version).
Masters of Unreality is available now in all good bookstores in Germany, and can be ordered direct from the publisher at: http://www.eloyed.com
Horror-Mall Chat a great success - Both of them!
25 April, 2008
We're late in posting this news, due to the Zoe excitement, so we apologise for our tardiness...

The Gerlach Online chat at Horror-mall on March 16th was a terrific success, with Steve chatting for almost two hours with horror fans about his novels and the characters who live in them. A transcript of the chat can be found here: http://www.horror-mall.com/forum/index.php?showforum=31

The chat was so successful, an "unofficial" chat was set up the following Friday for Aussie fans who were unable to make the US chat due to time zone constraints. This chat was also highly attended and included some special sneak peeks into what is upcoming in the Gerlach World.
ZOE RELEASED! Hits #1 and she's almost sold out!
It's been a busy month with the release of Hunting Zoe and other tales on the 13th of April (a perfect date!)
Stocks have been seen across the US, in the UK and we have reports copies are now available in Australia. So get searching before she disappears! Zoe went straight to the Number 1 spot at www.horror-mall.com and is in danger of SELLING OUT before the end of the month!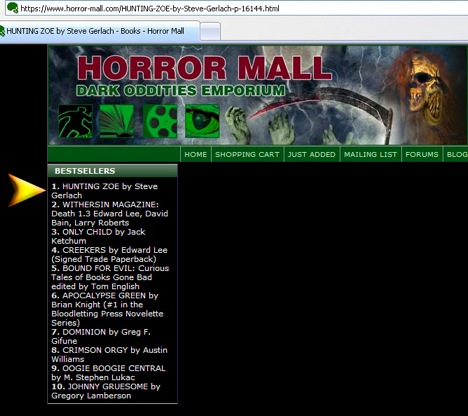 So, if you haven't captured her yet, time is running out! Pre-orders can be taken here: www.bloodlettingbooks.com and www.horror-mall.com.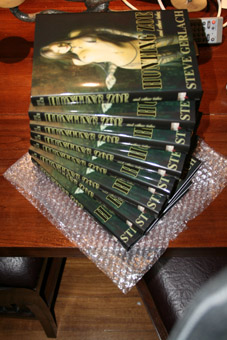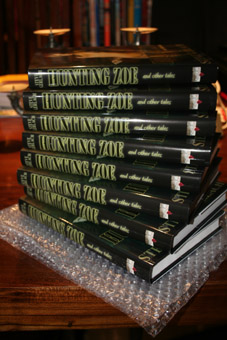 Feedback so far has been extremely positive, with many readers finally realising a long-held dream of reading the very hard to find "sequel" to LOVE LIES DYING. The short stories and interviews contained within the volume have also been keenly discussed, due to their rarety anywhere outside of Australia. The feedback has been terrific!
So, grab your copy before Zoe steps back into the mists and disappears again until.... who knows when?
BREAKING NEWS: Horror-Mall Chat!
25 March, 2008
BREAKING NEWS: Horror-Mall has just announced an online chat with Steve, scheduled for SUNDAY MARCH 16 at 8pm Eastern Standard USA Time. Here's your chance to join Steve in the Horror-Mall chat room to ask all those burning questions you've always wanted answered! http://www.horror-mall.com/forum/index.php?showforum=31

Please note, this is USA time. For Aussie readers, this is 2PM EST, Monday March 17! Mark it in your diary now!
Zoe is Here!
Word reaches us from Bloodletting Press that Hunting Zoe and other tales will ship from the 13th of this month! So, the wait is almost over! The Table of Contents is listed in the December 19 update (below), so remember here's your chance to get the Love Lies Dying "sequel", plus some of the best Gerlach short stories (collected together for the first time!) Numbers are limited, so get yours before they all go!
Also, Bloodletting will be at this year's World Horror Convention, so keep an eye out for Zoe there as well! Pre-orders can be taken here: www.bloodlettingbooks.com and www.horror-mall.com.